Located just south of Santa Monica and east of Venice Beach, Marina del Rey is a charming tight-knit community that combines the best of coastal living with boating access, waterfront views, bike paths along spectacular beaches and incredible dining. Those who call the Marina home are drawn by the water sports, walkability, a highly sought after school system, not to mention the beautiful views.

You can't help but be inspired by the surrounding water, and residents embrace the opportunities to sail, row, surf, paddle board, bike, and more. Indoor-outdoor is how things flow here, and the lifestyle lends itself to healthy and active beach activities, park gatherings, weekly local events, and family friendly fun in every corner. Only six miles north of LAX, and adjacent to Venice, Playa Vista, Playa del Rey, Culver City, and Westchester, Marina del Rey has the best of the westside, all within a ride on one of their incredibly scenic bike trails.

What began as an estuary, whose visitors were only fishermen and duck hunters, Marina del Rey developed into the largest man-made small-craft harbor in the country in 1965, and is now home to over 5,000 boats. The harbor was designed with many mooring options, and you'll find plenty of personal pleasure crafts, whale watching and seabird watching boats, commercial fishing boats, a U.S. Coast Guard Cutter Ship, along with the many charter boats which frequent the bay for spectacular sunset cruises. While every day of the year can feel like vacation in this much adored L.A. hotspot, the abundance of high-rise apartment and condo complexes with amenities to die for, make it an ideal spot for professionals, retirees, and families alike.
Things to Do in Marina del Rey
Burton Chace Park
Known as the crown jewel of the Marina, this beautiful 10-acre park juts out into the main channel and offers some of the best views around. Chase Park draws people from all over the city for their annual festivals including the Summer Concert Series in July and August, free summer movie nights, the Halloween Boat Parade in October, and Marina Lights in December. You'll also find locals there on a regular basis for the weekly community and family-centered events, or just to enjoy the built-in barbecue grills, picnic areas, and spectacular sights.
Fisherman's Village
It may seem like you're walking around a quaint New England harbor front, but this village offers year-round enjoyment with a waterfront mall, top-notch restaurants, shops, views, and weekly free live music. In the summer, arrive in style, as it's one of eight pick-up/drop-off locations for the WaterBus.
Mother's Beach
The official name may be Marina Beach but it's referred to by locals as Mother's Beach, which has become more than a family favorite with all its offerings. Lifeguards watch over the roped-off swimming and wading area, perfect for young kids, or learning to windsurf, paddle board, or kayak. You'll also find a playground on the sand, several open and covered picnic areas, not to mention food trucks that frequent the parking lot and tons of dining options in walking distance.
Los Angeles Rowing Club
The only community Masters rowing club in Los Angeles is in the heart of the Marina, and if you've ever fantasized about sculling in the open ocean, there's no better time to start. Los Angeles Rowing Club offers their learn-to-row program twice a year, which includes a one weekend intensive followed by 6-months of practice rows.
Blue Water Sailing
The folks at Blue Water have been teaching students for the last 40 years, and their curriculum is one that instills a lifelong love of sailing. They also offer year round fun opportunities to get out on the water and meet other sailors.
Boat Rentals
The options are plenty at Marina del Rey Boat Rentals, where you can get out on the water in all your favorite ways. From jet skis to power boats, to yachts and paddle boards, to catching a panoramic view from above with a 500 or 800 ft parasailing ride.
Yoga on a Surfboard
All levels are welcome at the L.A.'s premier Stand Up Paddleboard Yoga studio, located on Mothers Beach. Move through a Vinyasa Yoga flow with customized instruction for the paddleboard – the first 30 minutes is for peacefully paddling around the harbor and the remaining hour is dedicated to yoga on the paddleboard.
Bike Paths
Marina del Rey is central to some of the most incredible trails in SoCal. The Marvin Braude Bike Trail (also known as the Strand), a 22-mile paved path that runs along our pristine coastline, starts north of Santa Monica at Will Rogers State Beach and runs through Venice, the Marina, past Manhattan Beach and ends in Torrance. The Ballona Creek Bike Path starts at Syd Kronenthal Park in Culver City and extends about 7 miles to the beach Bike Path. For more ride ideas, BikeMap has you covered with 761 cycle routes to explore in the area.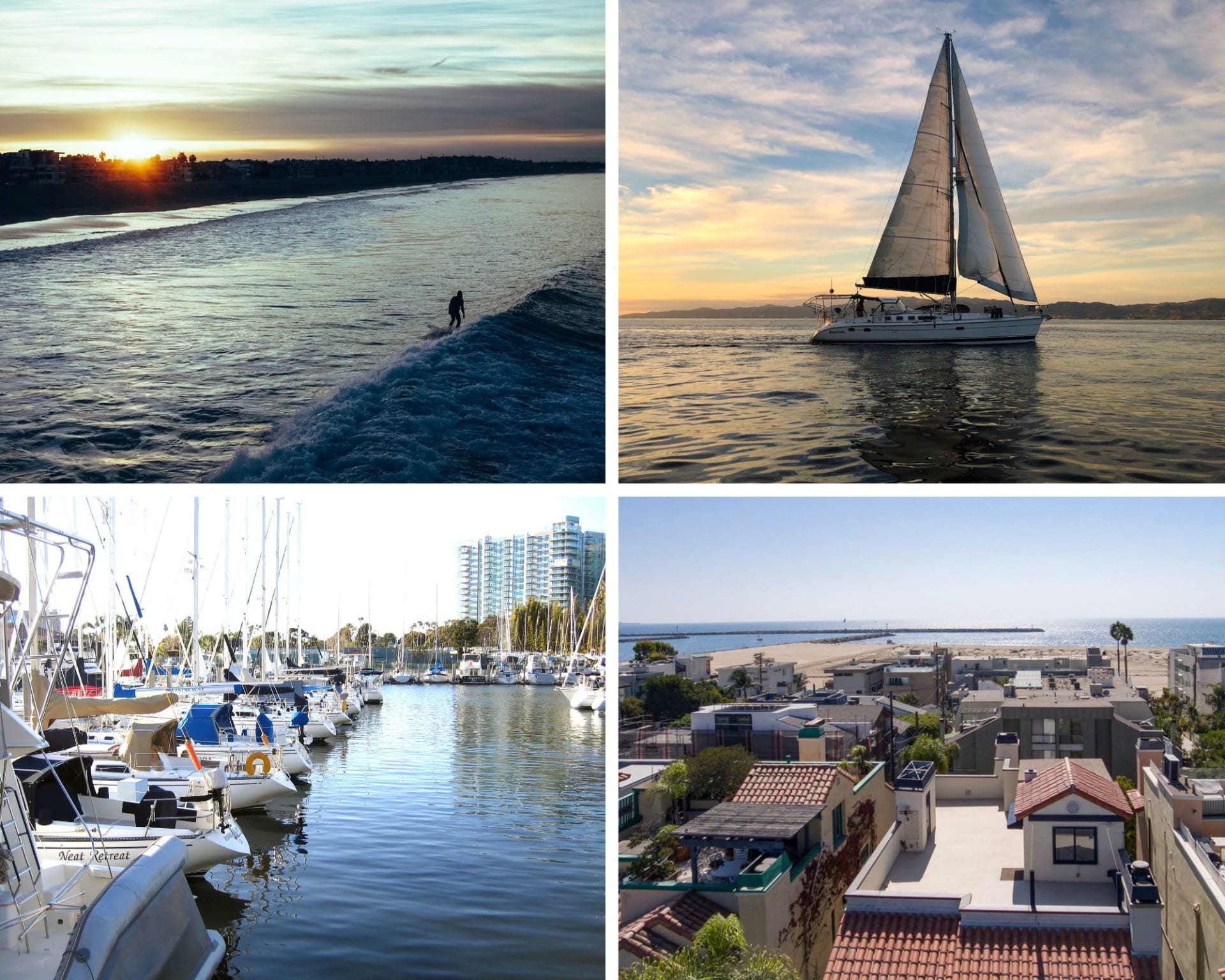 Annual Seasonal Events
July 4th Fireworks
People from all over Los Angeles (and the world) come to Marina del Rey to see one of the best fireworks displays in the city. Burton Chace Park and Fisherman's Village both have a festive party and family-friendly vibe with synchronized music on loudspeakers. Book early at one of the waterfront restaurants or charter a yacht for the ultimate views!
Halloween Boat Parade
Boaters are invited to light up their boats in full spooky mode, and channel their inner pirate or goblin to stand out and win a prize. It's free for viewers, so grab a spot at Fisherman's Village, Burton Chace Park, or anywhere along the water near the Marina del Rey Hotel or Tony P's Dockside Grill.
Marina Holiday Lights
Winter holidays are not the same without watching the annual Marina del Rey Holiday Boat Parade where dozens of ships, adorned with lights and decorations, float through the harbor. The best views are from the usual spots (Fisherman's Village, Burton Chace Park, or anywhere along the South Jetty) and be sure to catch a brief fireworks display before the parade begins. Musical entertainment from carolers, food trucks and photo opportunities at Burton Chace Park. Return on New Year's eve for their annual Glow Party and more fireworks.
Places to Eat
Dear Jane's
The newest Marina del Rey hotspot comes from the team behind Dear John's at the former Chart House, a prime waterfront location with floor-to-ceiling windows and sweeping views of the marina. Start with some "bougie bites" and don't skip the JLC seafood tower (oysters, clams, shrimp, a half lobster, stone crab claws, and ridgeback prawns).
Salt Restaurant & Bar
Voted by OpenTable as the diner's choice for "Best Ambiance and Outdoor Dining" on the Westside, meals and views at Salt are both stunning and memorable. Chef Sean Collins creates farm-to-table, locally sourced meals inspired by the seasons, which you can enjoy alongside your own fire pit. Two large outdoor patios with incredible waterfront views make it perfect for fireside chats, and their happy hour is one of the area's best-kept secrets.
Cast & Plow
Sunset dinners at the Ritz-Carlton's signature restaurant features local California-inspired cuisine served up on highly coveted tables with fire pits right along the waterfront. There's truly no better place to take in incredible views of the water, sailboats and sky, alongside beautifully plated small dishes with locally-sourced ingredients, any time of the day or night.
Irori Sushi
A local gem, this traditional Japanese spot where you're not allowed to wear your shoes, has sunken tables, low lighting, and some of the freshest fish in town.
J Nichols Kitchen
This all day spot is both hip and cozy, intended to wow with flavors and also feel like home. The menu includes everything from roasted beets to topped flatbreads and smoked ribs, and they have a special knack for burgers.
DID WE MISS ANYTHING?
Let us know at [email protected]. Be sure to follow us on Instagram and Facebook for neighborhood updates and listings. We look forward to seeing you in Marina del Rey!