You'll find Playa Vista in the heart of Los Angeles's Westside, bordered by neighboring hotspots Venice, Marina del Rey, Culver City, and Westchester. It's known to be one of the best places to live in California, due to its proximity to transportation, gorgeous beaches, trendy shops and restaurants, and "A" rated schools (Niche). With all this at your fingertips, it's no surprise that it also became the perfect spot for creative and tech powerhouses like Google (at the heroically sized Spruce Goose hangar), YouTube, and USC's Institute of Creative Technologies. What was once solely the headquarters of Hughes Aircraft Company (from 1941 to 1985), Playa Vista along with surrounding neighborhoods transformed into Silicon Beach and is now home to the corporate offices of The Honest Company, TOMs, IMAX, Microsoft, and Twitter, among others.
Playa Vista is more than a tech hub, its abundance of natural beauty, educational resources, and attractions are second to none. Ballona Creek Trail and Bike Park provide an eight-mile-long trail through Baldwin Hills and Ballona Wetlands, before connecting you to the iconic beach bike path at Playa del Rey. Prestigious Loyola Marymount University and nearby Otis College of Art and Design offer fantastic higher educational opportunities in beautiful settings. Local concerts at the park, summer outdoor movies, and the farmers market all add to Playa Vista's incredible community spirit. From high-rated foodie spots to dog park suggestions, we've hand-picked our favorite places to dwell, local treasures, and outdoor marvels. We love Playa Vista and can't wait to say hi at one of our favorite spots!
Local Playa Vista Hotspots Guide
Runway Playa Vista
Cover all your entertainment and shopping needs in one place at Runway, in the heart of Playa Vista. Top notch workouts at Orange Theory Fitness and Sender One (rock climbing wall), Whole Foods, diverse dining options, and Cinemark luxury movie theater will please everyone for hours on end. @runwayplayavista
Jeni's Splendid Ice Cream
A James Beard Award winner, this is artisanal ice cream at its finest! At Jeni's, flavors are inspired by a range of curiosities—art, history, pop culture—that you won't find anywhere else. @jenisicecreams
Hopdaddy Burger Bar
If you take your burgers (and vegan burgers) seriously, this is the spot to be. The buns are baked in-house, the beef is certified Piedmontese, and the fries have more options than we can mention. Happy hour starts early (3-6 PM) so come by for a craft beer or a frozen margarita to go with your burger and authentic local vibe. @hopdoddy
Sol Mexican Cocina
Experience Baja at this lively, breezy SoCal beach setting. Choose from over 100 types of tequila and mezcals to sip with their unique, healthy coastal Mexican cooking at one of the open bars or around the fire pit. Don't miss their Taco & Tequila Tuesday specials from 3 pm to close. @solcocina
Mrkt At the Reserve
This popular cafe and catering spot takes care of you and your team when you need it most. With an A-list of discerning top clients, they are masters of covering all the details, including menus, staffing, packaging, and equipment. Oh, and did we mention their food is phenomenal?! @eatmrkt
Blue Bottle Coffee
Find a little oasis at Blue Bottle's Playa location. It was designed with wrk-shp to promote a sense of calm and creativity, perfect for inspiration alongside your specialty brew. @bluebottle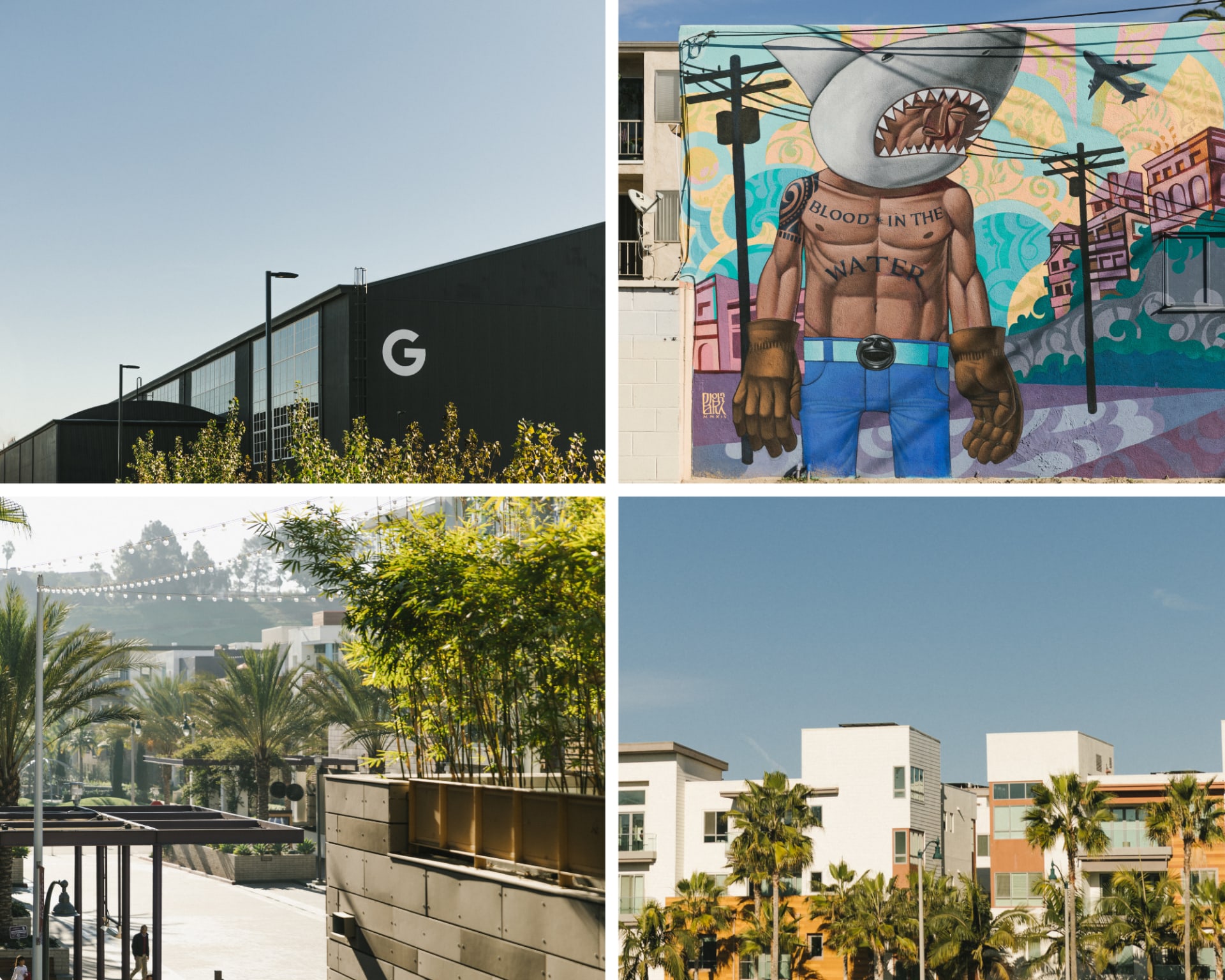 Outdoor Havens
Ballona Freshwater Marsh
Birding hot spot alert! Check the calendar for tours at this flourishing marsh that is a habitat for more than 250 species of migratory and resident birds. Birders often come from miles around to see the great biodiversity here in our backyard. @ballonafriends
Central Park
L.A.'s own version of Central Park is located in Playa Vista, where there are more parks per acre than most Southern California cities! You're guaranteed to find something at the 19 parks, each with its own personality. From football at Crescent Park to yoga and Zumba at Concert Park, there truly is something for everyone. @playavistaca
Bluff Creek Dog Park
Bluff Creek is the only dog park in Playa Vista that offers "pet turf" in contrast to the wood chips, and you'll also find "rolling hills" and a central stream. Happy pet, happy owner!
Did we miss anything?
Let us know at [email protected]. Be sure to follow us on Instagram and Facebook for neighborhood updates and listings. We look forward to seeing you in Playa Vista!