Located in West Los Angeles, Culver City has been one of the hottest neighborhoods to live in for years, combining a vibrant community, a rich history, and cutting edge restaurants and entertainment. Close to major thruways (the 405 & the 10) and the Expo line (Metro Rail), residents have easy access to all parts of the city. Its close proximity to the fabulous SoCal beaches, and neighboring areas (Silicon Beach, Westchester, and Venice Beach) have attracted families, entrepreneurs, film industry buffs, artists, and tech magnets to make this creative hub their home.

With a highly sought-after school system (which happens to be the third-most diverse district in California) and multi-million dollar developments (Culver Studios), it's no surprise that the local real estate market is also in high demand. This century-old city offers award winning food, architecture, sophisticated art galleries, a walkable downtown, and nature while maintaining a small town feeling with everything you need at your fingertips.
HISTORY
Culver City was founded by real estate developer and philanthropist Harry Culver in 1917, and almost immediately became an epicenter for the motion picture business. Three major film studios opened within seven years of its founding, with the most notable addition being Metro-Goldwyn-Mayer (MGM), making it a center for film and later television production. MGM eventually joined Sony Pictures Studios, and along with Culver Studios and the former Hal Roach Studios, hundreds of movies have been produced on Culver City's studio lots.

In the 1940's, another addition to the growing Culver City was Hughes Aircraft, where they built the H-4 Hercules transport (also known as the "Spruce Goose") and the city became a central hub for aircraft production during World War II.

The 1990's brought about big changes during a successful revitalization program, which included renovations to downtown, Westfield mall, and the addition of many noteworthy art galleries and restaurants on the eastern part of the city, now named Culver City Arts District. During this time, Sony Pictures Studios moved into what is now called Columbia Studios, and set the stage for Culver City's strong industry presence.

This last decade has brought about big and exciting changes, notably with the expansion of Culver Studios, a 720,850 square feet, $620 million campus, which includes the iconic 1918 Colonial mansion of the original Culver Studios. Amazon Studios will occupy 530,000 SF of the studios, including the mansion and the bungalows. Other occupants are IMDB, World Wide Advertising, and WarnerMedia while Beats, HBO, and Maker Studios are just a few more significant tech and media giants that have set up shop in Culver City.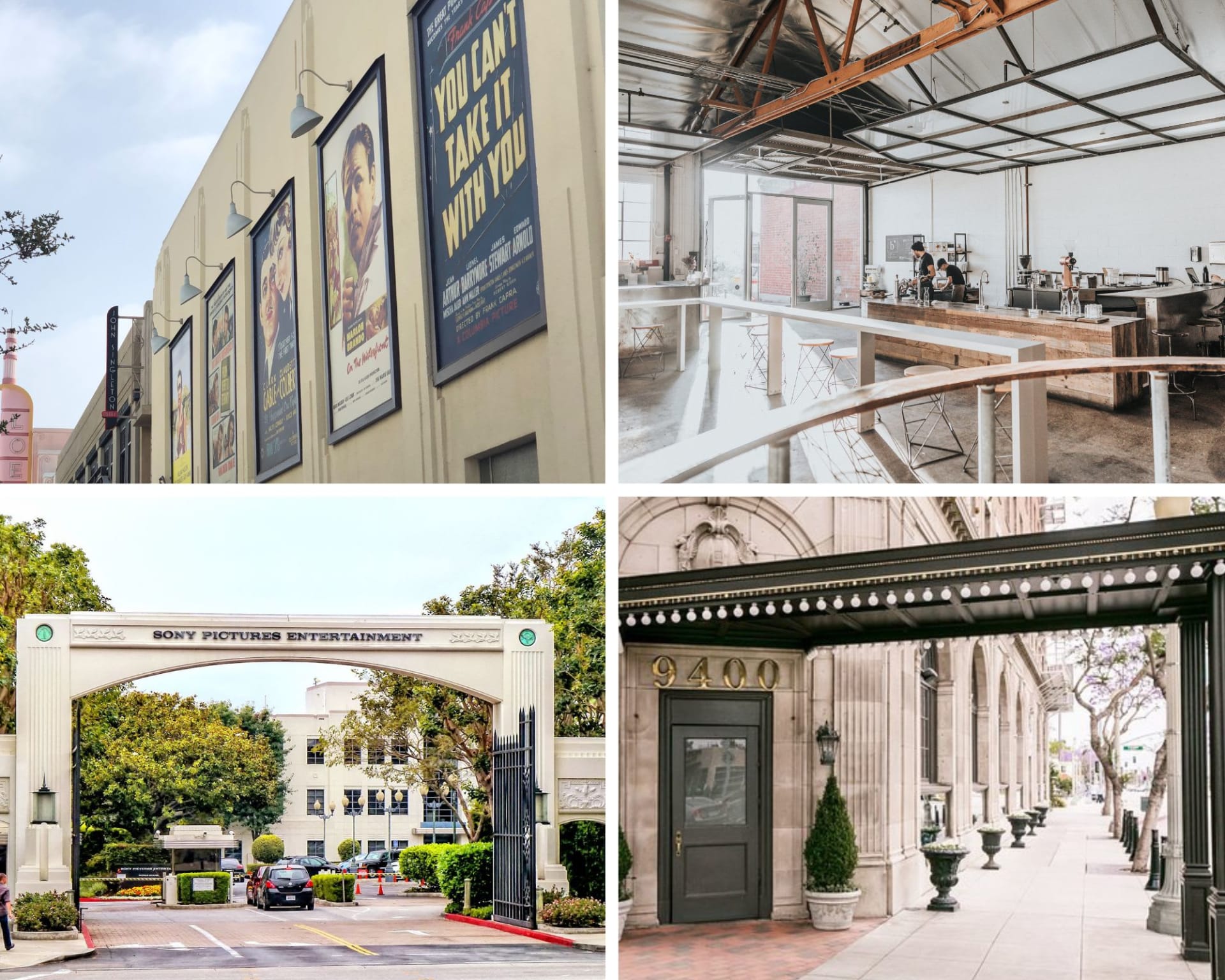 PLACES TO GO/THINGS TO DO IN CULVER CITY
There is no shortage of activities, from screenings to gallery hopping, to lounging, exercising, or playing at one of Culver City's 13 parks (including a nature preserve). We've hand picked some of our favorite spots for cultural excursions, family fun, and year round entertainment.
MUSEUMS AND GALLERIES
Museum of Jurassic Technology
Visiting this museum will be one of the more unique and intriguing experiences you'll have in Culver City. As you stroll down dimly lit, maze-like corridors, you'll see exhibits with names like "No One May Ever Have the Same Knowledge Again," "Rotten Luck: The Decaying Dice of Ricky Jay," and "Tell the Bees" (folk remedies from world cultures). The entire journey through this 12,000 sq ft building will surprise and delight.
Wende Museum
The Wende Museum holds an unparalleled collection of art and artifacts from the Cold War era, and its name means "turning point" or "change" which describes the transformative period around the fall of the Berlin Wall. This theory is central to the museum's mission to serve as a foundation for programs that illuminate political and cultural changes of the past, and inspire active participation in personal and social change for a better future.
Culver City Arts District
This rich community of galleries showcase the gamut, ranging from contemporary art to pop and street art, to sculpture and fine art. Culver City Arts District's ongoing commitment to artists and the neighborhood contributes to a full calendar of cultural events and art openings throughout the year, so be sure to check out the current schedule of exhibitions.
NATURE
Baldwin Hills Overlook
Get ready to climb 280+ stairs to the top of the overlook at this small state park, where you'll get a panoramic view of downtown Los Angeles, the Hollywood sign, the San Gabriel Mountains to the east; Malibu to the North, west to the Pacific Ocean, and south to Palos Verdes. The sights (and steps) are breathtaking.
Culver City Park
This classic neighborhood park will serve all your leisure and nature needs on over 41 acres, with areas for picnics and grilling, sports, a dog park and skateboarding. Other close by options are Syd Kronenthal Park or Fox Hills Park.
SHOPPING
Platform Los Angeles
This urban development and creative hotspot is in the heart of downtown and definitely worth a visit. With 50,000 square feet of retail and restaurant space and 80,000 square feet of creative and office space, it unites the best in culture, independent retail, and culinary delights. Swing by Tom Dixon for design inspiration before getting artisanal ice cream at Van Leeuwen.
Westfield Culver City
Also known by locals as Fox Hills Mall, this is a one stop spot for all your shopping needs with Best Buy, Nordstrom Rack, Target, H&M and Trader Joe's. Fun fact, you might notice it from certain movie and series classics like Superbad, Big Love, and CHiPs.
RESTAURANTS
Margot
This stunning and impeccably designed rooftop restaurant is a favorite at Platform, offering coastal Mediterranean cuisine. The indoor-outdoor space allows for 360-degree views of the city, and is truly perfect for any occasion.
Simonette
This Parisian cafe inside Palihotel's lush courtyard has an Instagram worthy patio and food to match, and it's as charming as it sounds. Be sure to check out their expertly curated Old World wine selection.
Hatchet Hall
A long time neighborhood staple for a reason, it's designed for coming together with family and friends and sharing is a must. Each of the small plates are unique and unbelievably delicious, leaning to a Southern theme while focusing on quality farm-to-table ingredients. You'll want to hang out for hours on the boho-chic patio, before heading to the secret hidden bar (Old Man Bar) in the back.
Citizen Public Market
When you want to please multiple palettes, this downtown food hall is a win-win situation. There are only seven stalls, but it's truly a foodie's heaven. Stop by for ceviche and tacos from Mexicology, sustainable uni trays at Jolly Oyster, a Wisco Disco from Goodboybob, and stay awhile at the rooftop Bar Bohemian, for one (or two) of their fab craft cocktails and a charcuterie board.
Lodge Bread Company
You can't get more authentic than this owner-operated (by two brothers) and team-focused bakery which focuses on whole-grain sourdough bread making and milling flour. All of the options are 100% delicious.
Bar Nine
This cavernous community-driven space rife has plenty of seating, tables, and bohemian flare, along with sustainable coffee perfection. Oh and you'll get your to-go coffee in a mason-jar instead of the usual paper cup, as they are one of the first coffee shops in the country to adopt an all-glass takeaway program.
NOTABLE ARCHITECTURE
Culver Hotel
We can't talk about Culver City without mentioning the iconic Culver Hotel, built by Harry Culver in 1924. This six-story Renaissance Revival building was designed by Curlett & Beelman (notable Art Deco architects), and guests included Clark Gable, Judy Garland, Lana Turner, Frank Sinatra, plus former owner Charlie Chaplin. It eventually became a national historical landmark and is now a 4-star boutique hotel, with old-world charm and architectural integrity. They host wonderful special events, and be sure to stop by for a classic cocktail and live jazz every evening in the bar area.
Hayden Tract
Just a mile outside Culver City's downtown lies the Hayden Tract, a quintessential industrial park that has been transformed over the past two decades by contemporary Los Angeles Architect Eric Owen Moss and developer Frederick Samitaur Smith. The extension of the Expo Line to Santa Monica has allowed more access to this ongoing architectural experiment. We're excited to see what the future will hold, as it continues to expand its already growing mix of top restaurants, and designers with high-end fashion retailers, and artisan boutiques.
DID WE MISS ANYTHING?
Let us know at hello@stephanieyounger.com. Be sure to follow us on Instagram and Facebook for neighborhood updates and listings. We look forward to seeing you in Culver City!