Home to some of the best restaurants in the world, Los Angeles offers an endless array of options for delicious and distinctive cuisine. Whether you prefer a casual atmosphere, fine dining, or take-out, each restaurant presents its own unique vibe and dining experience.

With so many appetizing restaurant options and diverse menus to choose from, we always find the best recommendations come from our friends and neighbors. Below, our team shares some of their favorite restaurants to enjoy breakfast, lunch, dinner, or even the best chocolate chip cookie. We hope this list delights and surprises you and your taste buds as much as it does ours!
---
Nikki Baldwin recommends…Sugarfish
With eleven locations around Los Angeles, Sugarfish by Nozawa serves traditional sushi of the highest quality. Chef Nozawa believes the sushi experience should be pure and simple. Their passion is to carry forward his great tradition and style of food – which many believe is the best sushi there is. Please note: Sugarfish does not accept reservations. Learn more.
Courtney Jones recommends…Wabi on Rose & Nueva
Located on Rose Ave near Abbot Kinney in Venice, Wabi on Rose embodies the laid-back Venice lifestyle. With an innovative cuisine and a vibrant bar scene, Wabi on Rose serves up a trendy, new vibe that can only be found on Rose Avenue. Learn more.

Also in Venice, Nueva is a fun, relaxed Cantina with a modern approach to classic dishes from Mexico. Learn more.
Cameron Kalemkarian recommends…Meat on Ocean
Attention meat lovers! Meat on Ocean in Santa Monica ​​serves up steaks with extraordinarily bold flavors and buttery textures. Offering dry-aged meats are aged for 30, 45, 60, 90, and 120 days in a temperature / humidity-controlled room, lined with pink Himalayan salt bricks. Learn more.
Jill Knepper recommends…Rustic Canyon
Rustic Canyon is "a Michelin-starred, neighborhood restaurant where friends near and far can come together and celebrate the best things in life: great food, great wine, and great people." They offer a regularly changing menu of farmers' market-inspired dishes with the best ingredients from local farmers, ranchers, and fishermen with sustainable practices. Learn more.
Renee Marinkovich recommends…Plant Food & Wine
Designed as a communal gathering place in Venice, Plant Food and Wine offers a selection of locally sourced health-conscious food in a seasonally crafted menu and incredible wine list. Dining outdoors under the olive trees is highly recommended. Learn more.
Andrew Mason recommends…Porto Bakery & Big Deans Ocean Front Cafe
From cheese rolls to tiramisu and everything in between, Porto bakery is committed to using the finest ingredients from all over the world and where you can experience home baking at its best. Learn more.

Big Deans Ocean Front Cafe offers "sun, fun, great food, beer, wine, music, sports TV, outdoor patios, and reasonable prices" located on the Santa Monica Boardwalk in Santa Monica. A great spot before or after a walk or bike ride on the beach! Learn more.
Amber McLain recommends…Superba Food and Bread & Il Pastaio
Superba spaces are equal parts bakeries, cafés, and neighborhood meet-up spots. Amber highly recommends the chocolate chip cookies! Learn more.

Celebrating over 25 years of operation, Il Pastaio in the heart of Beverly Hills offers some of the best Italian food in Los Angeles. Try the very popular Arrabbiatta made with a traditional house spicy tomato sauce. Learn more.
Ron Melendez recommends…Terroni
Serving regional Southern Italian dishes that have been prepared the same way for generations, Terroni LA is a roomy, bustling restaurant in West Hollywood. Learn more.
Chloe Nelson recommends…Palmilla Cocina Y Tequila & Kanapi Sushi
Located in Hermosa Beach, Palmilla Cocina Y Tequila features home-style Mexican cuisine along with an amazing selection of premium tequilas and globally inspired wines. The lovely outdoor patio area and hand-carved, illuminated tabletops make this a great date spot! Learn more.

With three locations in Los Angeles including Westchester, Kanapi Sushi offers a deliciously authentic Japanese Sushi Bar & Grill. Learn more.
Julie Oman recommends…Vincenti Ristorante
For over two decades, Vincenti Ristorante has continued to heighten culinary senses by curating the finest in Italian cuisine in the exclusive neighborhood of Brentwood. Recently, it was voted one of America's 50 best Italian restaurants by The Daily Meal! Learn more.
Alicia Parente recommends…Gjelina
A staple in the Venice community, Gjelina in Venice serves locally-sourced, produce-forward food. Gjelina offers breakfast, lunch, and dinner and is located at the corner of Abbot Kinney Blvd. & Milwood Ave. Learn more.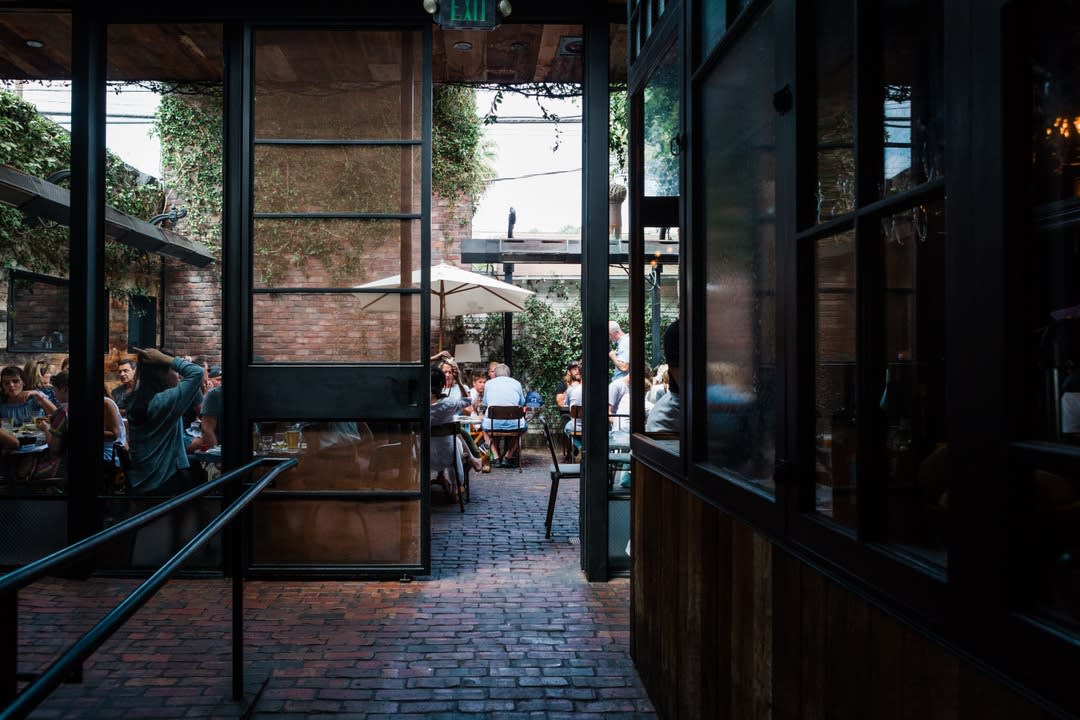 Ashley Sackerman recommends…Iroha Sushi
For high-quality Japanese food and the best uni in town, head to Iroha Sushi in Studio City. They also have a beautiful patio for al fresco dining! Learn more.
Stephanie Singletary recommends…Hacienda del Rey
With over 40 years of experience, Hacienda del Rey is a family-friendly Mexican restaurant located in Westchester and Playa del Rey. Be sure to check out their daily specials including Margarita Mondays and Taco Tuesdays! Learn more.
Rose Vasilj recommends…Playa Provisions
Created by Top Chef Winner Brooke Williamson and husband Nick Roberts. Playa Provisions in Playa del Rey includes four different restaurant concepts nestled within one 7,000-square foot, beachside location. From a casual breakfast and lunch experience to a grain whiskey bar to ice cream, Playa Provisions provides a taste for everyone! Learn more.

For additional recommendations for local restaurants and businesses and the most up-to-date info, be sure to check out our guide on Instagram.

Bon Appétit!