An icon of Southern California and beloved by tourists and Los Angeles locals alike, Venice is a bohemian beach town, cultural center, artist haven, and hipster hotspot. It was developed by millionaire Abbot Kinney in 1905, as a beach resort designed after its Italian namesake, complete with canals, piazzas, pedestrian bridges, a lagoon, a 1,200-foot-long pier, and an arcaded business street with Venetian architecture.

What was once an independent city until 1926, Venice is now part of the much-esteemed westside of Los Angeles, south of Santa Monica, north of Marina del Rey, and borders the Palms, Mar Vista, and Del Rey neighborhoods.

Although Venice boasts 75 miles of pristine coastline, a world-famous boardwalk, high-end shopping, and dining, and is home to tech magnets Google and Snapchat, it still maintains its laid-back, artsy vibe, where locals ride their bikes or skateboard to work, and take surf breaks when the waves are just right.


History
Venice's history is rich and eclectic. The Beat Generation poets and artists set up shop in the sixties, while the seventies and eighties brought peace, love, and roller skates! Ocean Front Walk, a 2.5-mile pedestrian promenade that runs along the beach was perfect for roller skating, which fit in well with the performers, artists, craft vendors, and fortune-tellers that you'll still find today.

Around the same time, a group of outcasts known as the Zephyr Team (Z-Boys) started as surfers and gave birth to a new skateboard movement, making "Dogtown" a world-famous nickname. Dogtown covered Venice and Ocean Park beaches, and locals would surf "POP" (Pacific Ocean Park Pier), the abandoned amusement park on the water which created a secret cove for the surfers. The Zephyr team helped revolutionize skateboarding into an international sensation, and still remains at the heart of Venice culture.

Homes in Venice are as unique as its history, and you never quite know what you're going to see when you turn each corner. Charming beach cottages still line the original waterways, which you'll find alongside modern masterpieces, Spanish bungalows, and contemporary classics. It's always fun to stumble on famously designed homes, notably Frank Gehry's Norton House on Venice Boardwalk, and Mario Romano's Wave House, which is made from custom-cut white aluminum, stained cedar blocks, and skateboard decks.

If you'd like the full tour or just pointers on where to ride your beach cruiser or scooter around this quintessential SoCal haven, let us know–we love our neighbors in Venice.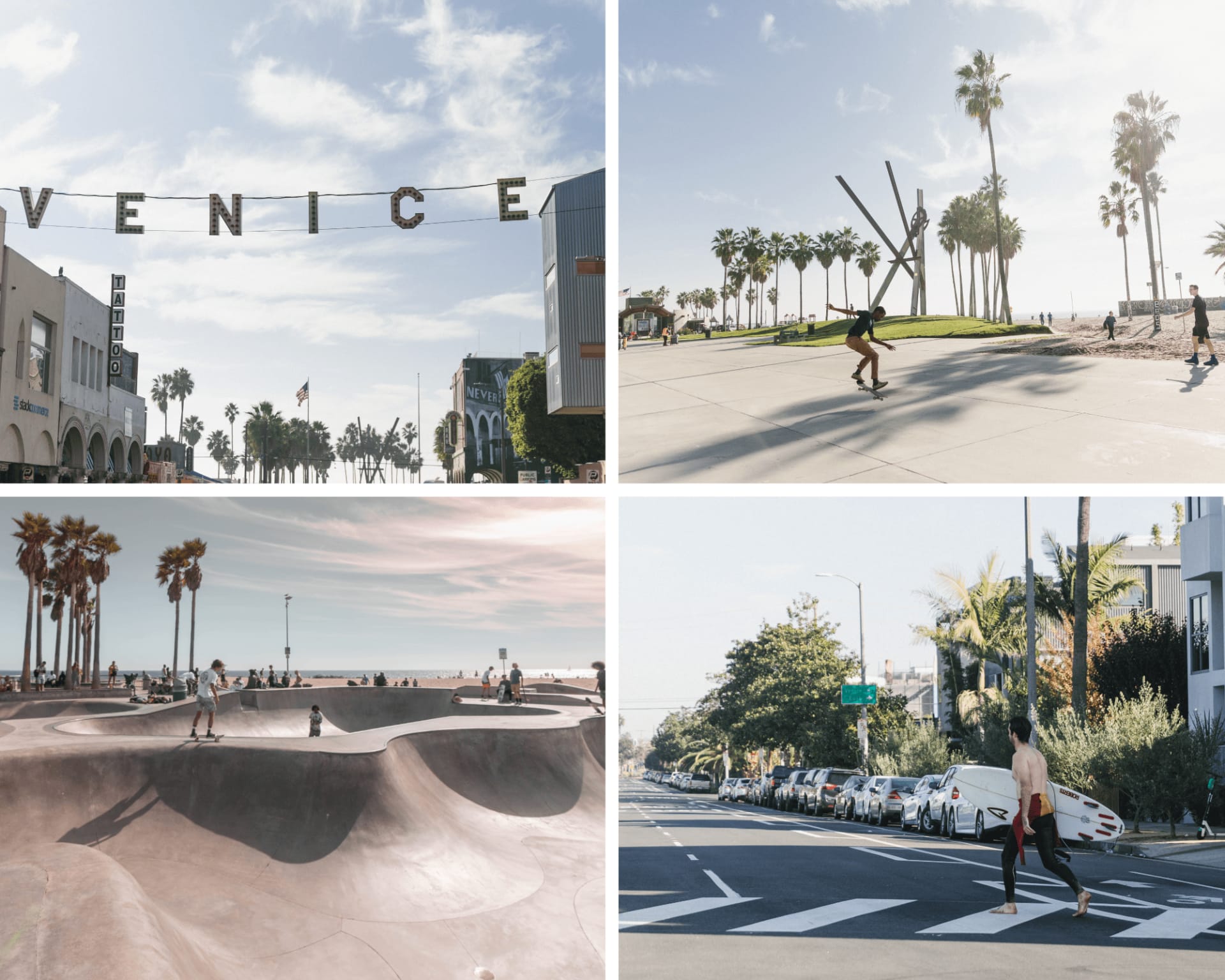 Things to Do
Venice Boardwalk
Ocean Front Walk (aka "the boardwalk") draws colorful locals and visitors from around the globe. The boardwalk provides hours of endless entertainment and people-watching and truly has something for everyone. Muscle Beach is a well-known outdoor gym, where enthusiasts flock to be a part of the bodybuilding tradition (Arnold Schwarzenegger and Frank Zane worked out here). You'll recognize the basketball courts from the movie White Men Can't Jump and you might even see some skaters that were extras in Lords of Dogtown.

In 2009, with help from the local skate community, RRM Design Group developed the Venice Skate Park, a 16,000 SF, $2.4 million dollar public skate park on Ocean Front Walk, to be reminiscent of the empty swimming pools the legendary Z-Boys skated back in the day. It always draws a crowd, and you'll be mesmerized by the feats and some epic views in all directions.

Surfing
What better place to learn than one of THE original Los Angeles surf spots?! We love the philosophy at Wavehuggers, where they don't just teach you how to surf, they see surfing as a way to connect to the ocean which allows for spiritual growth, healing, and awareness of how to protect it. Book a lesson any day of the year.

The Venice Canals
Take a step back in time, and stroll through the beautifully landscaped walkways of Venice's canals, overarching pedestrian bridges, past kayaks, and the occasional duck family, and be in awe of the range of architecture, from charming beach cottages to modern marvels of glass and steel. Try to make it for the Holiday Boat Parade, when homes and bridges are brightly decorated, and locals cheer the procession of boats and participants.

The Mosaic Tile House
Artists Cheri Pan and Gonzalo Duran turned their home into a gorgeous mosaic art piece that you can visit on your Saturday afternoon visit to Venice. They have turned their home into a gorgeous mosaic art piece. This one-of-a-kind house is covered wall to wall with colorful tiles, statues, and art, and is not to be missed.
Shopping
Named "The Coolest Block in America" in GQ's Style Bible issue, Abbot Kinney is a destination in itself. This shopping mecca and foodie heaven is actually a mile long, and home to some of the most unique independently owned stores, restaurants, cafes, and galleries, along with internationally known retailers and a star-studded crowd. Some of the best people-watching in town, this hipster street offers the full Venice experience while picking up limited-edition items, gourmet eats, and maybe even a tarot reading. Be sure to check out First Friday, where all the best food trucks converge for a culinary block party you'll never forget.

Grow Venice
You can find all your fun and stylish SoCal home goods, outdoor accessories, decor, and more at this small but packed gift shop. You'll have your home looking boho-chic in no time with crystals, planters, and other eco-friendly tchotchkes.

Huset
Stock up on all your stylish Scandinavian gear which features over 60 designers. You'll find some of the coolest, modern furniture, fine art, housewares, kitchen items in town.

Everlane
This is the only Los Angeles location for this coveted sustainable fashion brand. Feel free to stock up, it's good for the planet.

Erewhon
This upscale market has an amazingly curated array of healthy food, supplements, and prepared meals, to go along with its famous clientele and shoppers.

Find more great stores with this Abbot Kinney shopping guide.
Restaurants
Gjelina
You can't really talk about Venice without mentioning Gjelina, the destination spot that's worth the wait. The locally sourced dishes are as pretty as the crowd, and if you're in a rush head next door to GTA for a slice of pizza or sandwich to-go.

Felix
Make reservations early for Chef Evan Funke's Abbot Kinney hotspot with some of the best pizza and handmade pasta in the city. Where else can you see a climate-controlled pasta-making space in the middle of the dining room?

Dudley Market
This fun and lively neighborhood oyster bar is tucked away on a side street a block from the beach and a favorite for locals, who you'll find there at any time of the day or night. Their monthly wine club, "Friends With Benefits" gives you first dibs on their incredible and always rotating vino selection.

Barrique
A date spot must, located in an old, yellow bungalow on Main Street with low lighting, candlelit tables, and delicious locally sourced classics by Chef Antonio Murè. Their wine list has options from over 500 Italian vineyards!

Casablanca
The menu at Casablanca has barely ever changed in the 40 years it's been a Venice staple. Dependably fun and family-friendly, with homemade tortillas pressed in the center of the dining room, and a margarita cart rolling around consistently.
DID WE MISS ANYTHING?
Let us know at [email protected]. Be sure to follow us on Instagram and Facebook for neighborhood updates and listings. We look forward to seeing you in Venice!