Santa Monica is an internationally-renowned and beloved seaside oasis that embodies all the best of Southern California. Enjoy awe-inspiring views, endless outdoor adventures, world-class restaurants and entertainment, and picturesque neighborhoods in 8.3 square miles of coastal perfection. Located in the heart of the westside, Santa Monica borders Pacific Palisades to the north, Venice to the south, Brentwood and West Los Angeles to the east, and a 3-mile coastline to the west, with high bluffs that separate the north side from its pristine beaches.
It offers a Mediterranean climate and an average of 310 days of sunshine annually, so you'll find locals and tourists alike catching waves, cruising the strand, riding Pacific Park's shimmering ferris wheel or strolling the Third Street Promenade for performances and shopping year round. Truly, this oceanside playground offers spectacular options for everyone!
Developed as a resort during the late 19th and early 20th centuries with attractions like Palisades Park, the Santa Monica Pier, Ocean Park, and the Hotel Casa del Mar, Santa Monica was always a place to see and be seen. Unmistakable in its presence is the iconic Santa Monica Pier, originally built in 1909 to serve as a sewage pipeline, but quickly became a fishing and boating destination. A second pier was added soon after, where famed carousel and amusement park developer Charles Looff created a one-of-a-kind carousel featuring 44 hand-carved horses inside the Hippodrome building, which still stands at the south end and is now a National Historic Landmark.
In 1996, the opening of the Pacific Park amusement park brought the Pier back to its former glory, adding the world's first solar-powered Ferris Wheel that lights up the sky over the ocean. The Pier continues to draw about four million annual visitors, for rides, games, street performers, restaurants, Heal the Bay Aquarium, and stunning sunsets over the Pacific.
Once inhabited by the Tongva, then established as a town in 1875 to serve as a home for Japanese and African Americans, Santa Monica has evolved from a small seaside post to a celebrated destination and thriving community. Today, the diverse population is made up of families, industry pros, students, and surfers, who are drawn to its central location, walkability, amenities, and supreme outdoor living. The school district is one of the best rated in Los Angeles, with eight elementary schools, three middle schools, and three high schools, including the esteemed Crossroads and Saint Monica High School. Colleges include the Art Institute of California, and Santa Monica College, which draws students from all over the city to the 38-acre campus. The variety of housing options is as eclectic and luxe as its crowd, from modern beachfront single-family homes, to quaint cottages along tree-lines streets, to contemporary condos with perks like rooftop pools and views for miles.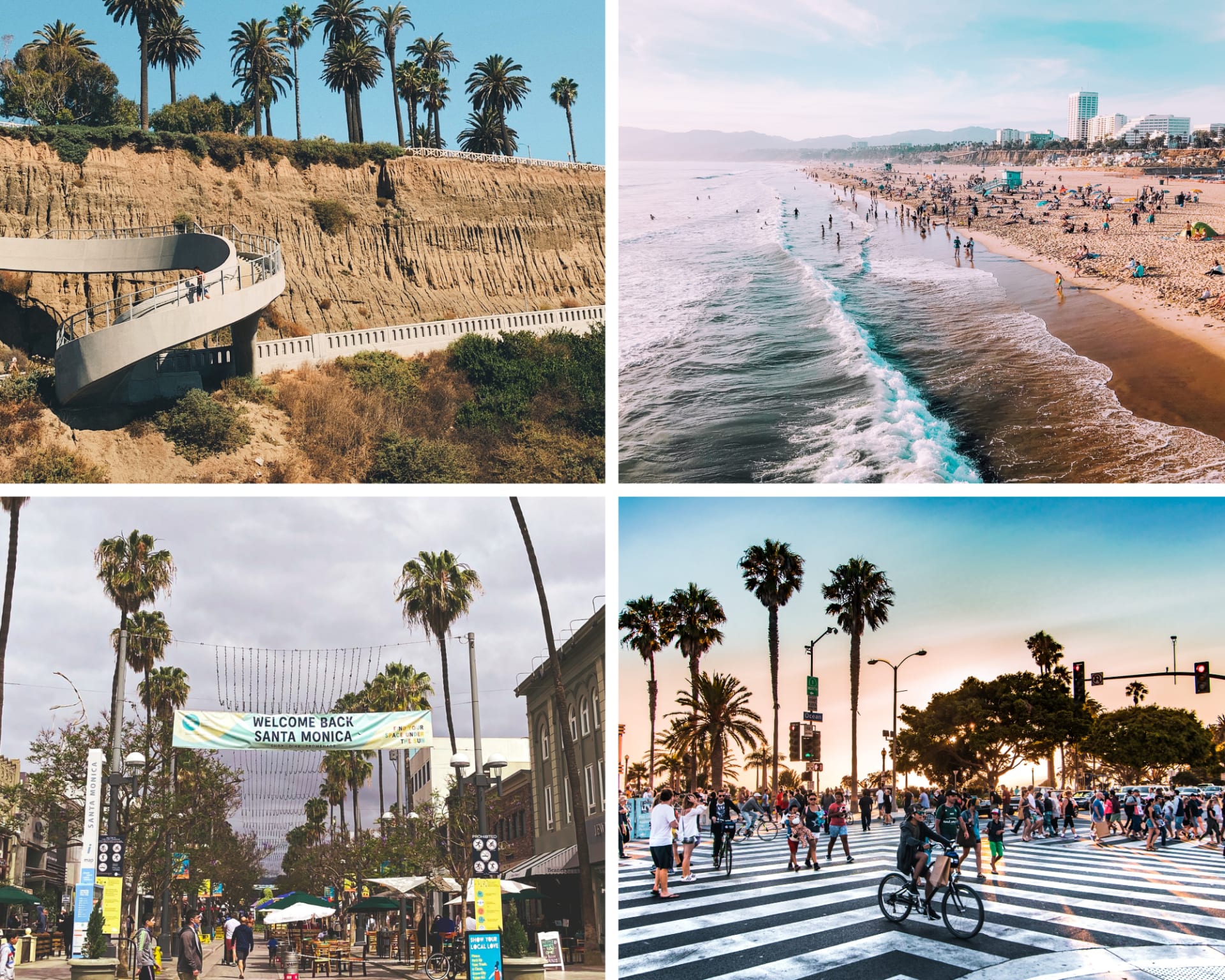 Things to Do
Santa Monica Beach
Santa Monica's picturesque 3.5 miles of sandy beach is divided into two sections (by the locals): north and south of the pier. On the south side of the pier, the beach is level with the city and provides easy access to the multitude of restaurants, hotels, parks, and shopping options. You'll also find volleyball courts, one of the most scenic sections of the Marvin Braude bike trail, and the Original Muscle Beach. Fitness aficionados flock to this outdoor gym to show off on ropes, parallel bars and other muscle building equipment, for anyone who wants to watch. To the north of the pier, you'll find attractions like The Santa Monica Stairs, a popular workout spot, and the North Beach Playground, fully equipped with universally accessible surfaces and paths, plus sensory play elements for touching and hearing.
Annenberg Community Beach House
Further up north, this historic oceanfront property originally built for actress Marion Davies by William Randolph Hearst, is a fabulous community destination with something to please everyone. Open daily for fun at the pool, splash pad, playground, gallery, beachside cafe, or one of their weekly events, all along an incredible stretch of sand and ocean.
Palisades Park
This 26.4-acre park is located along a 1.6-mile section of Ocean Avenue, over the exposed bluffs with views of both the Pacific Ocean and the mountains. This favorite walking area includes public art and sculptures, a totem pole, a rose garden, benches, picnic areas, pétanque courts, and the entrance to the Pier.
Farmers' Markets
Santa Monica doesn't just have one farmer's market, it has four! The weekly markets are on Wednesdays, Saturdays and Sundays, where you can get local produce, specialty goods, flowers, food, music, crafts, and even bounce houses. Downtown, Main Street, and Pico neighborhoods.
Shopping
Santa Monica's three shopping districts are each unique in their feel and style, with Montana Avenue on the north side, the Downtown District (which includes the Third Street Promenade), and Main Street on the south end. Montana Avenue's stretch of shopping is more low-key chic, with over 150 distinctive luxury boutiques and cafes along one elegant tree-lined street, just minutes from the ocean. Main Street is just two blocks from the beach, so you'll find surfers and locals strolling and dining at one of the casual and eclectic restaurants and specialty retail shops. The Downtown District is a mecca of shopping and entertainment, with attractions that draw Angelinos and tourists from all over the world. The Third Street Promenade is an outdoor pedestrian-only shopping district where people can wander, shop and be wowed by street performers for three blocks between Wilshire Blvd. and Broadway. The Promenade leads to The Santa Monica Place, a three-level outdoor mall with high end retail, Bloomingdale's, Nordstrom, and outdoor dining with ocean views.
Restaurants
Élephante
This lounge-like hotspot offers coastal Italian cuisine, beautiful ocean views, and chic boho vibes. Sip on a hand-crafted cocktail, order some pizzas, and take in the dramatic sunset while feeling like you've been transported to a Southern Mediterranean beach house.
Father's Office
Celebrity chef Sang Yoon serves up one of L.A.'s most talked-about burgers and other foodie bites at this lively Montana Ave gastropub. They follow a strict "no-ketchup" policy, but you won't need it with the unique and amazing flavor combinations. They also have 36 craft beers on tap.
Fia
The setting feels like a lush and cozy secret garden, complete with string lights and greenery at every corner. Enjoy Italian and Californian coastal cuisine by Chef Brandon Collins for a romantic dinner or a party of 500, in one of its multiple spaces like the Parlour Room, Garden Terrace, or Fia Lounge.
Pasjoli
If you're looking for one of the most fine dining experiences on the west side, this upscale French bistro on Main Street Fine has the service and ambience to match the amazing food. Grab a seat at the bar or book a private event on the outdoor back patio for a family-style dinner by award-winning chef Dave Beran.
Bay Cities Italian Deli & Bakery
Stop by this locals favorite Italian deli for delicious baked dinners to go, imported wine and cheese, or the Godmother, one of the most iconic sandwiches in L.A. It's worth the (sometimes) line out the door.
Soko
The name means "storeroom" in Japanese. Even with its intimate eight-seat counter and few tables, it's quickly becoming a destination omakase spot. You'll find Masa Shimakawa crafting his incredible nigiri, sashimi, and other raw Japanese delights nightly, located in the Fairmont Miramar's side entrance.
DID WE MISS ANYTHING?
Let us know at [email protected]. Be sure to follow us on Instagram and Facebook for neighborhood updates and listings. We look forward to seeing you in Santa Monica!