We had the absolute pleasure of chatting with Chris and Kim Ohno, owners of Sunstone Yoga in Westchester, Los Angeles. Sunstone offers yoga classes for people of all ages, skill levels, and fitness levels. Since May is Mental Health Awareness Month, we thought this would be a great opportunity to share the many mental and physical benefits that yoga can provide for individuals and the community.
What would you like the community to know about Sunstone Yoga?
Being home owners in Westchester for 17 years now, we're excited to see the direction which our community is evolving towards. It feels like forward thinking businesses are popping up to help create a more modern atmosphere. Westchester is starting to feel more and more like a place where people will enjoy hanging out. Whether that's at an interesting restaurant, farmer's market, cafe or fitness space. We like to think of Sunstone Yoga as "Our neighborhood yoga studio". Previously, most of our yoga experiences were happening in Venice, Culver City, Playa Vista, Santa Monica, etc. As studio owners, we are committed to offer the highest quality instruction while honoring the health and wellness of each practitioner. Sunstone Yoga is a space for anyone who is interested in improving their physical health which in turn leads to a more tranquil mindset. We call it taking your practice "off the mat".
In your experience, what are the top 3 benefits of practicing yoga for mental health?

The yoga system uses exercise & stretching, breathwork and mindfulness to achieve mental calmness, composure, and evenness regarding thoughts and activities. A healthy and nutritious diet is one of the first benefits of the yoga practice. The more one can engage healthy eating habits the easier it will be to excel in the physical aspects of the yoga system. The physical aspects of the yoga practice lead to a strong and healthy body. The combination of these things and breathwork all in turn leads to a steadiness of the mind. The yoga system begins with our physical nature and moves us inward toward the subtle aspects of energy, emotion and levels of consciousness.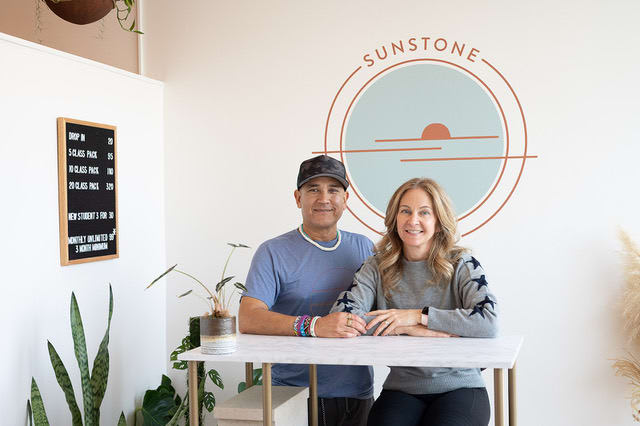 Any advice for beginners?

Just come in and start practicing. We offer a Foundations & Fundamentals class two days a week. But, if you can't make those classes then come to any class. Simply be in the room and do as much as you can. Yoga is a very individual practice and is designed to be a slow process. Our teachers will modify the classes on the fly to help you get something out of your experience. Commit to at least one or two days a week. It is through repetition and practice that the foundation of your health and wellness will be based upon.
Anything else you want to share?

Have fun! This is a great community and we are all here to help support one another. Yoga is not a competition. Ultimately it's a practice of deep self-awareness where mind, body & spirit truly become one.
To learn more about Sunstone and their offerings including a class schedule, click here.
Photos by Zsuzsi Photography